Getting a Bachelor's degree as a studio engineer and related audio arts has been the domain of downtown educational institutions, but The University of St. Francis' Digital Audio Recording Arts (DARA) program has been making its mark offering potential students and those interested in the program since 2012. Studiophile talked to Jeff Jaskowiak Director of DARA at USF about the program.
IE: You have a world class digital recording arts program in Joliet. Most folks don't know there are options getting a Bachelor of Science Degree in Joliet.
Jeff Jaskowiak: Many people have told us "we are the best kept secret" after visiting with us. I suppose partly because our program as a major is only five years old. At any rate, we'd like to change the "secret" part. However, every year we've been growing. Our class sizes are small, typically around 10 students a course. This is a great student/teacher ratio that we'd like to keep. Currently we have four paths or concentrations a student can take; Artist, Audio Engineer, Music Entrepreneur, or User Generated Content Developer. Many students take a mixture of these.
IE: The music business is changing rapidly, but your curriculum has been developed so your students can have success with new music business models in the 21st Century.
JJ: Our foundational belief is "musician, technician, entrepreneur" with a deep understanding of multiple income streams. Pulling from our personal careers and observations of other successful music industry professionals around us it seems that a mix of these traits always exist. Everyone is always wearing multiple hats these days. It's not enough to just play your instrument well. The new musician needs to understand technology from DAWs to MIDI to meta- data and everything in between. But all of this means nothing without an entrepreneurial mindset. That's why we partnered with our business department at the University of St. Francis to enhance the DIY mentality. We've also started a podcast called "Musician, Technician, Entrepreneur" where we interview successful music industry professionals and have them share their experiences and paths to being a 21st century musician.
IE: There some great training facilities and programs in downtown Chicago, but your students have the advantage of access to your studio 24 hours a day and 7 days a week.
JJ: It was extremely important to us that the DARA program be a hands-on experience. We encourage the students from day one to get in the lab and start exploring the sonic space and music creation. Our lab computers are second to none. We have installed the most current versions of Pro Tools and Ableton Live and they're loaded with plugins from iZotope, Waves, AIR, Native Instruments, and much more, they're dream stations. Our large main room and tracking room has a full-blown Pro Tools HDX rig, 48-channel Audient console, Grand Piano, Drumkit and some of the best microphones available. Students have proficiencies they must achieve to have full use of this equipment. And when they do we have worked out a unique agreement with our outstanding St. Francis security to allow our students 24/7 access. Every night the lab and studio are buzzing with sound.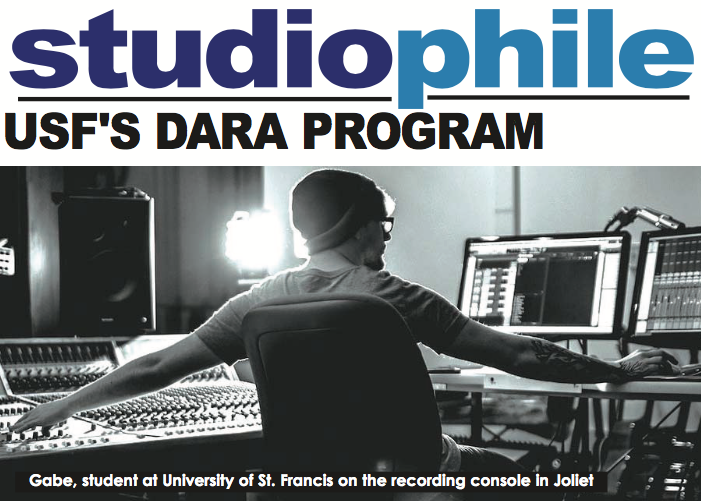 IE: Tell us about the facilities where students can get their training.
JJ: Let's turn this on its head for a moment. From day one students are mandated to create audio content to build an audio portfolio. From the beginning they are in the music creation mode. In the beginning coursework there is an emphasis on developing one's musicianship. We have a Berklee College of Music approach of teaching music theory, ear training, rhythmic understanding which I could go on [about] for a long time, but I'll leave it at that. Concurrently they are working with the tools in the digital audio workstations to understand and sculpt the sonic spectrum. And also concurrently, they're using the microphones and hardware of audio equipment to learn it's flavors so to speak. This is the realm of the audio engineer. As they progress, their results improve both musically and sonically using the gear and the spaces described previously. This is probably the shortest description of the process that I've ever given. As a side note, some great collaborative projects come into being in this environment.
IE: Are there opportunities for internships and potential job placement?
JJ: Since we come from working in the music industry we understand the real learning experiences come from being on the job. We therefore put a high priority on internships shaping them for each student interests from artist, [to] audio engineers to music entrepreneurs. We seek out a variety of opportunities. Currently we've partnered with a variety of recording studios, live production companies, venues, record labels and publishers. We're always seeking new places for internships. If someone is interested please contact us, we have the best students.
IE: What is the history of this program, in essence what brought it into being?
JJ: Dr. Bob Kase, who was our dean and a Grammy nominated trumpet player, urged me to write the initial coursework for the DARA major. The curriculum was approved in November of 2009. The very first gift of an Audient 8024 48-channel mixing console, wiring, soundproofing materials and a sound booth from the wife of a music lover named Dr. Bryan Mitchell (who passed away in spring of 2010), jump started the DARA program. Through Jason Patera, the current Head of School at The Chicago Academy for the Arts, I was introduced to Bryan's wife Mary, who generously donated her husband's personal recording studio equipment to USF.
Shortly after its inception the program took on an entrepreneurial focus, which parents really liked. The interface with the College of Business & Health Administration gave students more skills in marketing and business. And with their help we created some specific music entrepreneur courses. Our students like to make music and do music production, but they also have to figure out how to make a living doing it. Learning how to make a go of it as a lifetime career is an art. That's the reason we believe our program is resonating and working so well. I have not seen any school bundle their coursework like we do. Our balance of musicianship with technical and entrepreneurial components is unique curriculum.
IE: Are there any other novel or groundbreaking elements to your program?
JJ: I'm glad you asked. We've put together the DARA OS Electronic Ensemble, a platform for the students to use their programming and musical skills in a collaborative situation. The main backbone is five synchronized Push II controllers running Ableton Live flavored with additional acoustic instruments and voice. The students compose original material ranging from the esoteric to more traditional utilizing technology. After we spend a semester learning and writing we record an album that is release followed by a tour of local high schools. This will be our fourth year and everyone is loving it. Check out our music on Spotify or iTunes. Also we have fun videos up on our website.
We also launched a new concentration called User Generated Content Developer this fall. UGC coursework enables students to create, import and edit content captured on accessible audio/video devices using affordable software. This will help the musician, technician market themselves and potentially help them create new income streams.
IE: How are your graduates doing?
JJ: They are getting work in the music industry. We have a graduate that is an assistant at Chicago Recording Company, a graduate who is a touring musician and engineer in Nashville, a graduate who is getting her Master's in music business in L.A. who came back to tell us our instruction put her ahead of the game, a graduate who created a music software company, a graduate who is working for a promoter to radio stations, a graduate who does audio/visual for a Hyatt Regency. It's our feeling the diversified training and the Bachelor of Science degree is opening doors.
IE: How can potential students and those interested in the program get in touch with you?
JJ: Well, visit our website www.darausf.com or contact me Jeff Jaskowiak at jjaskowiak@stfrancis.edu or call (815) 641-0637 for more info. Come and see our website www.darausf.com for all our curriculum.